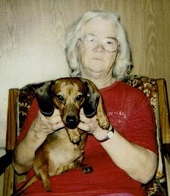 Virginia L. Baham
Aug. 14,1928 - Apr. 22, 2022
_______________________
Visitation:
Tuesday, April 26, 2022
2-4 & 7-9 p.m.
Treusdell Funeral Home
65 S. Main Street
Belfast, NY

Funeral Services:
Wednesday, April 27, 2022
2:00 p.m.
Treusdell Funeral Home
65 S. Main Street
Belfast, NY

Virginia L. Baham, 93, of 8819 Old State Road,Angelica, passed away unexpectedly at her home on Friday April 22, 2022. Born August 14,1928 in Clarence Center, NY, she was the daughter of Harry and Hazel Hale. She was married to Alfred A. Baham who predeceased her April 24, 2018.

Virginia had resided most of her life in Angelica. She grew up in Belmont, attended school in Friendship Central School. Later she moved to Angelica and was employed at Tri County Tube in Nunda for several years, then was employed at Monroe games in Arcade for a few years. Lastly, she worked at Robenson Co. in Castile for many years retiring from there.

Virginia loved watching humming birds and was a collector of stuffed animals. She enjoyed watching TV and loved her family and spending time with them.

Surviving are 2 daughters Patricia A. Baham and Virginia L. Baham both of Angelica; 5 grandsons; and several nieces and nephews.

She was predeceased by her husband, Alfred A. Baham; 2 sons, Alfred Baham Jr. and Harry Baham; 3 brothers, Robert Hale, Harry Hale Jr. and Richard Hale; and 2 sisters, Bernice Green and Thelma Gowdy.

Friends may call at the Treusdell Funeral Home, Belfast 2-4 and 7-9 pm on Tuesday, April 26, 2022. Where funeral Services will be held Wednesday, April 27, 2022 at 2pm. The Rev. Tony Ross, of Hornell will officiate and burial will be in Forest Hill Cemetery, Belmont. Memorials may be made to the Angelica Baptist Church. Online condolences for the family may be expressed by clicking the button below.