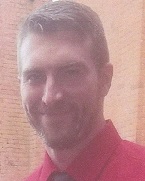 Scott C. Hurd
Nov. 6, 1987 - Sept. 24, 2017
_______________________
Visitation:
Friday, September 29, 2017
Noon - 2:00 pm

Treusdell Funeral Home
50 E. Main Street
Friendship, NY

Funeral Services:
Friday, September 29, 2017
2:00 pm
Treusdell Funeral Home
50 E. Main Street
Friendship, NY

Scott C. Hurd, 29, of 24 Willets Ave., Belmont, passed away unexpectedly Sunday, September 24 in Friendship. Born November 6, 1987 in Wellsville, he was the son of Noel L. and Dixie R. Scott Hurd.

Scott had resided most of his life in the Friendship-Belmont areas. He graduated from the Genesee Valley Central School in 2007. For many years Scott was a self employed auto mechanic in the area and also was employed at Birch Crest Co. as a tree trimmer.

He enjoyed auto repair anything to do with cars, He was an avid guitar player, Loved computer work, He truly loved life, but most of all loved his family and spending time with them. Scott was the kind of guy that would do anything to help anyone. He will be greatly missed by all who had the pleasure to know him.

Surviving are his mother, Dixie R. Scott of Belmont; two brothers, Matthew R. Hurd and Thomas L. Hurd both of Friendship; and several nieces and nephews.

Scott was predeceased by his Father, Noel L. Hurd.

Friends may call at the Treusdell Funeral Home, Friendship from Noon to 2:00 pm on Friday, September 29 2017 at which time (2:00 pm) funeral services will be held. Mickie Tidland of Friendship will officiate and burial will be in Maple Grove Cemetery, Friendship. Donations may be made to the family at 50 Norton street, Belmont, NY. Online condolences may be expressed by clicking the button below.