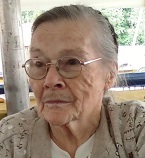 Myrtle J. Simmons
Dec. 1, 1924 - Feb. 21, 2017
_______________________
Visitation:
Thursday, February 23, 2017
7:00 - 9:00 pm
Friday February 24, 2017
2:00 - 4:00 pm
7:00 - 9:00 pm
Treusdell Funeral Home
65 S. Main Street
Belfast, NY

Funeral Service:
Saturday, February 25, 2017
1:00 pm
Treusdell Funeral Home
65 S. Main Street
Belfast, NY

Myrtle J. Simmons, 92, formerly of 15 Chestnut St., passed away Tuesday February 21, 2017, at Cuba Memorial Hospital, following a lengthy illness. Born December 1, 1924 in Angelica, she was the daughter of Daniel S. P. and Harriet Histed Fields. On April 7, 1945 in Belfast, she married Edward F. Simmons who predeceased her September 24, 1996.

Myrtle had resided most of her life in the Angelica, Belfast areas and was a graduate of the Wilsonian High School in Angelica, class of 1942. For many years she was employed at the Belfast Central School cafeteria and for several years she was a house keeper for various Belfast families. She had also been employed at Thunder Hills Camp Grounds on the Crawford Creek Road in the Town of Belfast. Myrtle enjoyed working with her hands, gardening and reading. Most of all she loved her family and spending time with them.

Surviving are two sons, Bernard L. (Sharon) Simmons of Belfast, and Charles E. Simmons of Angelica; five daughters, Doris J. (Daniel) Paluch of Buffalo, Margaret H. (Miles) Higley of Olean, Susan K. (James) Barnes of Little Genesee, Lois A. (Frank) Koczian of Ventura, CA, and Marilyn G. (Michael) Bunk of Cuba; eighteen grandchildren; several great grandchildren and several great great grandchildren; two brothers, Howard W. (Delores) Fields of Belfast, and Paul R. Fields of Lisbon, NY; a sister, Julia Washbon of Belfast; and several nieces and nephews.

In addition to her Husband, Edward, she was predeceased by a son James; a brother, Harold Fields; and a sister, Ethel Briggs.

Friends may call at the Treusdell Funeral Home, Belfast from 7-9 pm on Thursday February 23, 2017 and 2-4 and 7-9 pm Friday. Funeral services will be held Saturday, February 25, 2017 at 1:00 pm. Pastor Wayne Hart, of West Clarksville Baptist Church will officiate and burial will be in Pine Grove Cemetery, Fillmore. Memorials may be made to the Belfast Rescue Squad or a charity of the donor's choice. Condolences may be expressed by clicking the button below.