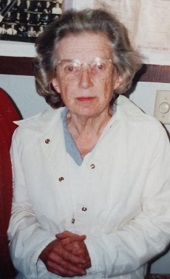 Marion B. Fleming
Oct. 24, 1926 - Nov. 21, 2022
_______________________
Visitation:
Saturday Nov. 26, 2022
10:00 am - 12:00 noon
Followed by a Prayer Service
Treusdell Funeral Home
65 S. Main Street
Belfast, NY

Mass of Christian Burial:
Saturday Nov. 26, 2022
1:00 pm
St. Patrick's Church
Belfast, NY
Marion B. Fleming, of 31 West Hughes St, Belfast passed away Monday, November 21, 2022 at the home of her nephew Dennis Feldbauer in Salamanca, NY following a lengthy illness. Born October 24, 1926 in Olean, she was the daughter of Earl and Hazel O'Boyle Baker. On November 25, 1970 in Belfast at St. Patrick's Church, she married Paul R. Fleming who predeceased her on December 7, 2013.

Marion had grown up in Belfast, attended Belfast Central School and graduated from there as the valedictorian, class of 1945. For the next 20 years she was telephone operator in Belfast for New York Telephone Co. She then was receptionist for Dr. Fero in the dentist office in Houghton for 27 years.

Marion loved gardening and lawn work. She enjoyed anything out of doors.

She was an active member of St. Patrick's Church in Belfast, an active member of the Belfast Grange and the Belfast Historical Society.

Surviving are a nephew, Denny (Cindy) Feldbauer of Salamanca; and 2 great nephews.

Marion was predeceased by a sister, Marjorie Feldbauer.

Friends may call at the Treusdell Funeral Home, Belfast 10am to 12 noon on Saturday November 26, 2022, at which time (12 noon) a prayer service will be held in the funeral home. A mass of Christian burial will be at 1:00 pm St. Patrick's Church in Belfast. The Rev. Patrick Melfi will be celebrant. Burial will be in Holy Cross Cemetery, Belfast. Memorials may be made to the Belfast Rescue Squad. Online condolences may be made by clicking the button below.