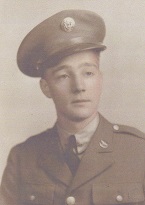 Staff Sergeant
Harold E. Kuhn
Feb. 4, 1921 - Aug. 31, 1943

_______________________

Graveside Service:
September 23, 2017
2:00 pm
Mt. Hope Cemetery
Friendship, NY
Staff Sergeant Harold E. "Barney" Kuhn


Staff Sergeant Harold E. "Barney" Kuhn, 21, of Factory St. died in Port Moresby, Papua, New Guinea, in August 31, 1943. His plane crashed into a mountain while on a mission there. He was born February 4, 1921 in Bradford, PA and was the son of Dana and Edna Benjamin Kuhn.

Barney was a graduate of Friendship Central School, class of 1940.

Surviving are several nieces and nephews, including Ruth (David) Thompson of Bolivar and Mary (Gary) Bastian of Wellsville.

Friends are invited to attend a military graveside service on September 23, 2017 at 2:00pm in the Mt. Hope Cemetery, Friendship. The Rev. Kirk Kirch, Pastor of the United Church of Friendship will officiate. Memorials may be made to the charity of the donor's choice. Funeral arrangements are under the direction of the Treusdell Funeral Home, Friendship. Online condolences may be made to the family by clicking the button below.