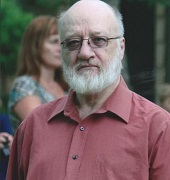 Francis Larry Fitzgerald
June 16, 1946 - Jan. 6, 2022
_______________________
Visitation:
Monday January 10, 2022
11:00 am - 1:00 pm
Treusdell Funeral Home
65 S. Main Street
Belfast, NY

Funeral Services:
Monday January 10, 2022
1:00 pm
Treusdell Funeral Home
65 S. Main Street
Belfast, NY

Francis Larry Fitzgerald, 75, of 44 Main St. passed away Thursday January 6, 2022 at the Wellsville Manor, Wellsville following lengthy illness. Born June 16, 1946 in Cuba, NY, he was the son of Julia Virginia Fitzgerald. He was raised by his grandparents, Ernest and Helen Fitzgerald of Friendship, NY.

Francis grew up in the Town of Wirt. He attended and graduated from Richburg Central School, class of 1965. From BOCES he took classes to become a CNA and received his certification. Moving to Belfast, he was employed at Jan and Bevís Home Care Services in Wellsville. He did Health Home Care from 2000 until his retirement in 2012.

Francis enjoyed needle point work and Margallo needle craft. His greatest enjoyment was his friends at Aceís Restaurant in Belfast, where he spent time eating and talking to the many friends he had.

Surviving are 2 step sisters, Mary Boyd and Rowena Boyd of Belfast; and several brothers and sisters, out of the area.

Friends may call at the Treusdell Funeral Home, Belfast on Monday January 10, 2022 from 11 am until 1 pm at which time funeral services will be held. The Rev. Robert Mackmer of Belfast will officiate and burial will be in Maple Grove Cemetery Friendship. Memorials may be made to the Belfast Free Library. Online condolences to the family may be made by clicking the button below.