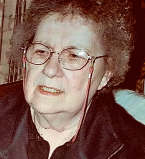 Barbara Louise Kazukietas
Nov. 4, 1943 - Apr. 17, 2018
_______________________
Visitation:
Friday, April 20, 2018
2-4 and 7-9 pm
Treusdell Funeral Home
65 S. Main Street
Belfast, NY

Funeral Service:
Saturday, April 21, 2018
1:00 pm
Treusdell Funeral Home
65 S. Main Street
Belfast, NY

Barbara Louise Kazukietas


Barbara Louise Kazukietas,74, of 4 Chamberlain St., passed away Tuesday, April 17, 2018 following a lengthy illness. Born November 4, 1943 in Buffalo, she was the daughter of Harold F. and Florence M. Fingerlow Fritzke. She was married to John Perry who died July 13, 1982 and on December 26, 1997 in Newfane, NY; she married Stanley J. Kazukietas who died December 17, 2011.

Barb had grown up in Tonawanda and graduated from Tonawanda High School, class of 1961. For many years she was a welder at Wilson Great Batch in Clarence, retiring in 2001.

She enjoyed crafts of all kinds, hunting and fishing.

She was a member of the Belfast Crafty Belles and the Belfast Red. Hats.

Surviving are a son, William Perry of Buffalo; a daughter, Rebecca VanBuren of Batavia; two step sons, Stephen J. (Linda) Kazukietas of Sanford, FL and Staff Sgt James R. Kazukietas of Afghanistan; six grandchildren and eleven great grandchildren; two step grandchildren; a brother, Willism Fritzke of North Tonawanda; and a sister, Beverly Lorene Tessier of Scio.

Predeceased by a step son, John Kazukietas and a brother Harold Fritzke.

Friends may call at the Treusdell Funeral Home, Belfast, 2-4 and 7-9 pm Friday April 20, 2018, where funeral services will be held Saturday April 21, 2018 at 1:00 pm. The Rev Robert J. Mackmer of Belfast will officiate and burial will be in the Oramel Cemetery, Town of Caneadea. Online condolences may be expressed by clickling the button below.